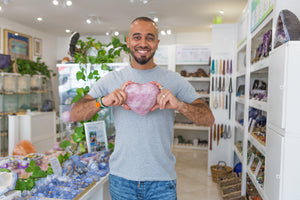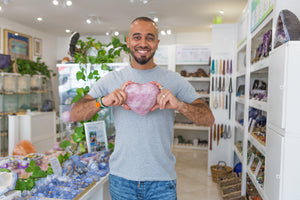 Universe of hand-selected Crystals
Bring the Earth's gemmy healing energy into the everyday
WHY IS CLEAR QUARTZ SPECIAL?
It's programmable, so ask it anything you like. It's a manifestor queen, and brings strongest amplification.
Its energy shapes around your needs.
In need of an
abundance booster?
Pair with Pyrite and Citrine.
CHOOSE YOURS
Head feels cluttered?
Get comfy, hold it on your forehead and feel the clutter dissolve.
CLEAR YOUR MIND
Want to ace big goals?
Note them down, whisper them to your crystal and place on the note.
BROWSE CLEAR QUARTZ
NEW IN: THRIVING CHILD KID'S SET
Support your children with the powerful energy of crystals you've felt on your own journey.
Dissolve worries, distractions, and anxiety with a collection of crystals put together to spike creativity, fire up focus and spark curiosity.
Thriving Child Crystals Kid's Set 🧸 £16.95
PAIRED WITH INTENTION
Each crystal has a mission to inspire, protect, boost self-confidence and cultivate a strong-minded child.
LEARN MORE
SCREEN-FREE TOOL
Paired with a handy pouch to throw in their backpack, travel case or pocket – ready to support them anytime. No chargers necessary.
GET ONE
HOLISTIC TOY
Made by the Earth, each crystal can be admired for hours. Turns a long road journey into a session of self-entertained discovery.
ORDER NOW
NEW IN!
See what's new on our site. Visit our London crystal store to browse for more crystal babies.
Where it all began
AK Vibes came to light as a result of Abdul Karim's personal healing journey.

In 2015, Abdul's long-awaited homecoming to crystals and Atlantean Therapy brought him to a reunion of energies. A moment of instant release, liberation and relief…
ABDUL'S STORY
You are at the centre of what we do
How do others feel about us? Hear our customers' reviews and experiences of our service, from advice to order, all the way to delivery. 
★★★★★

I've shopped online with AK Vibes a few times now and always pleased with the quality and service I have received. Highly recommend. Only place I would purchase my crystals.
★★★★★

I would travel one hour to get here anytime. If I was you I wouldn't walk I would run to AK Vibes. I recommend coming here. This will now be my main crystal shop. ❤️‍🔥
★★★★★

Love this team of people, genuinely helpful and caring. Great experience. Really fast delivery. Excellent quality products, feel really good energy. I'd love to visit the showroom one day too, on my bucket list.
★★★★★

Such a calming environment to be in and the crystals are just stunning! I think the appointment only system really works and keeps the experience very unique to the individual and intimate.
★★★★★

This place is such a hidden gem! You will get good energy from the moment you walk in. I would recommend AK Vibes for anyone from beginners to experienced crystal lovers because there is something for everyone!