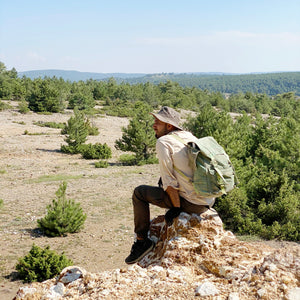 Healing energy feels even better when you follow its journey.
OUR FACTORY SPECIALS
Made by Mother Nature, processed by us. For you.
PEEK BEHIND THE SCENES
Follow every step. From "unearthed" to "tumbled".
1. VAN BUILD
It all started with Abdul's long-term vision: vanlife.
2. WANDERING TURKEY
Finding an array of crystal treasures, after months on the road.
Crystal hunting for most unique specimens.
That's an AK Vibes promise.
How we work
1. We find + collect
With dowsing rods and intuition, we unearth the best raw pieces.
2. Cut, tumble, polish...
Safely transported to our Crystal Factory, they're ready for processing.
3. You get to love them
Packed cosy, your ethically sourced goodies are sent to our store, and your homes.
3. OUR CRYSTAL FACTORY
Time to make them pop! Raw specimens turn into striking polished exhibits, ready for you to cherish.
How do crystals end up in your hands?
You've asked. We delivered.
We weren't joking about curiosity being one of our main values.
As adventurers, and seekers of the best, it usually gets the best of us – eventually.
Along that, we want transparancy and trust to be at the core of what we do.
So, 2020 saw us build upon that value, bringing us closer to our mission:
an AK Vibes Crystal Factory in Turkey.
Resulting in a magical process + products. For your healing. For generations to come.
We're open by appointments
Deeper connection to you
Our AK Vibes Advisors provide you with a more focused and personal advice without rush.
Comfortable exploration
Less crowds + more space = a moment to cherish forever. No pressure, just peace.
Safe space to share
You might arrive with a sensitive issue in mind – in such times, more privacy soothes.
Peace of mind
No distractions from walk-in browsers and those with unfriendly intentions.
If you are willing to be open, gemstones may heal you from desensitisation, and help you feel subtle energy. As such, they pave the way to your heart 💛
- Abdul Karim, Founder